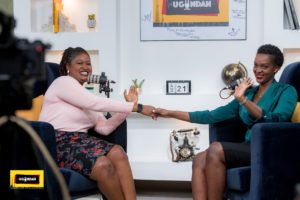 At Skyline Media & Management Limited, we are elated to share some exciting news with our cherished audience. Our very own production, "The Ugandan Podcast," has been nominated for Podcast Influencer of the Year in the second edition of the Pulse Influencer Awards. This nomination is a testament to the outstanding contributions of "The Ugandan Podcast" in informing and engaging the Ugandan public on government programs and national development goals. We are not only proud but also deeply honored to be a part of this incredible journey.
A Platform with a Purpose
"The Ugandan Podcast" transcends the conventional notion of a podcast; it's an immersive audio-visual production with a clear mission. We extend our heartfelt appreciation to the Ministry of ICT & National Guidance for their visionary approach to communication. Together, we have co-created a platform that goes beyond entertainment—it seeks to foster citizen engagement in achieving National Development Goals by disseminating critical information, promoting understanding, and facilitating constructive dialogue surrounding government initiatives.
20+ Episodes, Countless Insights
Throughout its journey, "The Ugandan Podcast" has produced over 20 episodes, each featuring a diverse array of guests—prominent personalities, successful entrepreneurs, and respected ministers. These individuals have shared their unique insights and perspectives on a wide range of topics. The result? Each episode serves as a wellspring of inspiration and knowledge. We are deeply humbled by the positive impact these episodes have had on our diverse audience and within the Ugandan community.
A Heartfelt Thank You to Our Listeners and Viewers
We would like to take this moment to express our sincere gratitude to our loyal listeners and viewers. Your unwavering support and enthusiasm have been the driving force behind the success of "The Ugandan Podcast." Your feedback and active engagement have been invaluable, propelling us to continue delivering high-quality content that informs, entertains, and inspires.
Join Us in the Celebration
As we celebrate this momentous nomination, we extend a warm invitation to our cherished audience to join us in supporting "The Ugandan Podcast." Your votes have the power to help us secure the coveted Podcast Influencer of the Year title at the Pulse Influencer Awards. Casting your vote is a simple yet impactful act of recognition for "The Ugandan Podcast" and an endorsement of our mission to foster dialogue, share information, and contribute to the nation's development.
Stay Connected with Skyline Media & Management Limited
At Skyline Media & Management Limited, our dedication to producing compelling content and providing innovative media solutions remains steadfast. We take immense pride in having "The Ugandan Podcast" as a part of our creative portfolio. We eagerly anticipate continuing this remarkable journey with you, our valued readers and listeners. To remain in the loop about our latest projects and news, please visit our website and follow us on our social media platforms.
In closing, we extend our heartfelt thanks for being an integral part of our success story. Together, we can make a difference through informed conversations and shared knowledge.